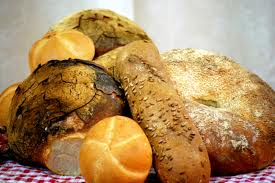 PROBABLY THE BEST BREAD IN THE WORLD
The Maltese market offers a great variety of bread. Some are typically Maltese while others are "imported". The original Maltese bread comes in various forms. There is the flat ring of non-leavened dough called ftira and the qagħqa ta' l-Appostli (a large "Apostles' ring-bread). But the most popular type of bread is the dark-brown round crusty loaf, known as ħobża.
There are several reasons which explain the popularity of the ħobża. This loaf is slightly sweet and has a delicious crust. Moreover, it has pure and sustaining qualities. To make it more delicious, some bakers sprinkle the top with sesame seeds.
This loaf is made from locally milled flour. As Maltese agriculture does not produce enough wheat, this important item has been imported since a very long time. At first it used
to be imported from neighbouring Sicily. The Knights of St. John built underground granaries to store this important wheat, some of which are found at Floriana (known as il-Fosos) and others at Valletta adjacent to Fort St. Elmo.

Whenever wheat was scarce on the market, a mixed flour used to be produced known as il-maħlut. This consisted of a mixture of rye and wheat.

Another type of ħobża is the ftira. it is unleavened bread flat in shape with a crust peculiar taste and moist crumb. Many buy a piece of ftira besides their daily loaf and latecomers find this from of bread has been sold out.

Bread production used to be carried out in every locality. Large urban areas had a bakery or two, sometimes more. Some localities have a street named Bakery Street in memory of a former bakery, such as at Lija and Valletta. The most popular place for bread-making was Qormi. It was referred to as Casal Fornaro (the village of bakers).
It is a documented fact that before the Knights built their bakery at Valletta, their major establishments, such as the auberges, the Grand Master's Palace and hospital,
were supplied with bread from Qormi. Some believe that this was due to two major reasons. Qormi was already well known as a bread making centre while it was the nearest large locality to Valletta, as Floriana and Marsa were still non-existent.
According to hearsay, Qormi was a place where malaria flourished as it was situated in a low lying position. The health problem was solved by the warm dry
air, offered by the ovens. Qormi became one of the most healthy districts in Malta. This is why bakers have to start working either late at night or in the early hours of the day, to have a supply of bread ready for an early delivery.

A second bake is made at a later hour. Usually clients come and collect their bread from the bakery themselves. Bakers also prepare a third bake to supply the local market with bread for those who have their main meal late after returning from their place of work.

The Maltese do not consider a good meal complete without a piece of this crusty bread. They insist on having fresh bread and possibly still warm from the oven. This is why bakers have to start working either late at night or in the early hours of the day, to have a supply of bread ready for an early delivery. A second bake is made at a later hour
A word associated with bread is bukkun or kumpanaċċ. This was used to express the food taken in small proportions with bread. The latter word is a corruption of the Latin word Cumpanatico. The Maltese considered bread as a special grace of God. This concept made bread to be treated in a special manner. When a person had to cut the loaf, he or she would sign it with a cross before using the knife to slice it.
While you are in Malta ask for a dark-brown crusty loaf. Cut thick slices. Rub the slices with tomato halves, dab them slightly with oil and vinegar, and sprinkle some salt and freshly milled pepper. Add capers, and mint and you can feast on a delicious Maltese "burger".

On the other hand if a person finds a piece of bread on the wayside, he would lift it, reverently kissed it and placed it on a wall or ledge so that it would not be trodden under another person's or animal's foot. Why? The Maltese associated bread with the Last Supper, that is when Jesus Christ instituted the Holy Eucharist.