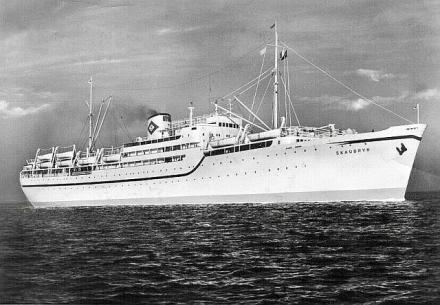 THE
LAST VOYAGE TO AUSTRALIA – The day the ship caught fire
TIMES OF MALTA

Monday, 31st March 2008
1958-2008
50th anniversary of a dream trip gone wrong
The crossing to Australia was an emotional time for the 1,100 passengers -169 of them Maltese - on the Norwegian migrant ship, the Skaubryn. They were excited about the opportunities in their new homes, tearful about the lives they had left behind. And for many of them, it was also a frightening experience, their first long sea journey. Who could have imagined that it would end in disaster? On March 31, 1958, the Skaubryn caught fire in the Indian Ocean and issued an SOS at 11.30 p.m.

Fate was kind. There was a vessel nearby, the City of Sydney, which rushed to assist the stricken vessel, getting there within two hours and saving all the passengers and 180 crew. It took four terrifying hours to get all of them off the burning ship. It later transferred the survivors to a liner, the Roma, which dropped them off in Aden, where they stayed till transport could be organised to Australia. On board with the migrants was Fr Spiru Tabone, now nearly 90, who was asked to accompany the Maltese contingent as their spiritual advisor by Fr Philip Calleja, head of the Emigrants' Commission.

"He knew that I yearned to go to Australia to see my family - although my roots in Malta were too deep to tempt me to emigrate. No one else was keen so I got the opportunity," Fr Tabone said, his cloudy eyes turned away, as though trying to glimpse his faded memories. "I had travelled before but never to Australia. I was not afraid of the sea. The sea was very rough at times but that is what you have to expect. I was brought up in Kalkara, near the sea so I know its fury."

He paused for a long time, his hands shaking slightly, trying to remember life on board. "My duties on board were not too onerous. All I used to have to do was celebrate Mass, really. I tended to keep to myself. I did not socialise very much," he said.

It is not clear whether he has forgotten the dramatic events of 50 years ago - or whether he prefers not to remember them. He talks about that night without any emotion.

"I remember that we were all woken up by the crew. We were in the middle of nowhere. We were taken off the boat onto the City of Sydney. I don't remember being scared. We were not even aware of the fire until we left the vessel," he shrugged.

They were lucky to escape with their lives but once the survivors got over their shock - and gratitude at being alive - they had to face the grim reality that they had lost everything they owned. They arrived in Australia with nothing but the clothes in which they stood. The stories in the newspapers of the time captured the extent of the human drama: One of the survivors was Carmel Calleja, who had left Gudja with his wife and 10 children. They arrived without even a toy between them.

The plight of the Skaubryn survivors touched many hearts. The Maltese government promptly sent £50 to each survivor aged over 20, £25 to those aged between 14 and 20, and £10 to those under 14. The Australian government helped all the survivors, providing AS$20,000 in all, while other philanthropic organisations also pitched in with food, clothes and money.

It was not only physical goods they need but also spiritual support. The Emigrants' Commission, through Mgr Calleja, organised recording sessions so that relatives in Malta could send messages to Australia, also keeping those in Malta up to date with what was happening there.

The Intergovernmental Committee for European Migration (ICEDM) organised a free cable for each family as well as free aerogram forms to be sent to relatives.
It also organised free transportation from Germany of personal belongings from relatives and friends.

Fr Tabone stayed in Australia until June 1958, returning on the MS Flaminia, much against his better wishes.... "I was obviously reluctant to travel by ship again and I asked to return by air but the ICEM could not accommodate my request as the contract only provided passage by air. I had no choice... "I have been back to Australia eight times since then to visit my siblings ... but always by air," he smiled.

Once back in Malta, Fr Tabone went back to parish work. The years sped by, one of the highlights being a visit to Rome in 1996 to celebrate the 50th anniversary of the ordination of Pope John Paul II, during which the Pope invited other priests from around the world ordained in 1946. He has been at the Dar Tal-Kleru in Birkirkara for over a decade. He politely ends the interview, apologising that he was not able to remember more and ambles back to the chapel, where a shaft of sunlight pierces the silence. A door opens and shuts and the aroma of food wafts down the corridor. Life goes on.
The story of the Maltese bound for Australia on board the Norwegian ship SS Skaubryn occupies a unique place since it was the only occasion when a number of emigrants were for a time in great danger. This ship was built in 1951 and made six journeys between Malta and Australia from 1952 to her last journey in 1958. On that fateful journey the ship carried 169 passengers from Malta while in all she had on her 1,082 passengers with 208 members of the crew. Among the passengers were 200 children and 40 babies.The Maltese had their own chaplain with them, Fr S. Tabone from Kalkara. He was going to visit his two brothers who had left Malta eight years before. The Skaubryn left Grand Harbour on March 22, 1958, and after a short stop at Port Said the ship passed Aden to enter the vastness of the Indian Ocean. That ocean was incredibly calm and the ship continued on her way in a very relaxed atmosphere.On Monday, March 31, captain Alf Haakon Feste ordered his crew and passengers to meet on deck at 2.30 pm for an emergency drill. Some of the people on board complained at this interference as they preferred their siesta at that time.

Once the drill was over some of the passengers went to the hall where a band was playing with a few dancers on the floor. It was very calm and very hot. As darkness fell many went to their cabins for the night's sleep. All one could hear was the regular humming of the ship's engines.Fr Tabone decided that he too needed a good sleep because he had to be up by 5.00 am. But suddenly the lights in his cabin dimmed and then there was complete darkness. The priest could hear people moving excitedly. His first thought was that some passengers had decided to go on deck to watch the Soviet satellite Sputnik as
they had been told that there was a good chance
of seeing the satellite from their position in the ocean. The reason for the commotion was that.the engine room was on fire. According to the report given by Captain Feste the fire was caused by a misunderstanding between two members of the crew when they caused oil from an open line in the engine room to spurt on hot exhaust pipes. In a very short time all passengers on board were told which lifeboats they had to take. This efficiency saved the lives of all concerned except for an elderly German who died of a heart attack. Theocean remained mercifully calm.
Luckily the merchant ship City of Sydney happened to be nearby and she picked all the passengers. From her decks the migrants could watch with awe their own Skaubryn being devoured by the flames. It was April 1st. The City of Sydney had accommodation for only thirty passengers. Messages for for help were sent to any possible vessel that happened to be near area. The luxury liner Roma under captain Nimira, picked the messages and was soon near the City of Sydney.The Roma was on her return journey from Australia to Italy. Fr Tabone remembered everything in detail. "All of us were taken on board the Italian luxury vessel.

The crew fed us and gave us new clothes. Some of the passengers gave their own cabins to those of us who were in need of rest. The Roma took us to Aden where we disembarked on Good Friday. We were in Aden for three days and the local authorities treated us very kindly. We were given some pocket money. In Aden, we
knew that our relatives in Malta and in Australia had been told what had happened to us.
A Maltese bride, Evellina Vassallo, was going to Australia to get married. She lost everything including her cherished wedding dress. After three days we were taken by the English liner SS Orsova to continue our journey to Australia.

When we arrived at Freemantle we were met by the local authorities and by the Maltese Commissioner who stayed with us until we reached Melbourne. The Commissioner
offered us $5O each in the name of the Government of Malta. Those who were in the age group between fourteen to twenty were given $25 each and $10 were given
to all youngsters under the age of fourteen years. While on the Orsova the survivors received a telegram from Mr A.R. Downer, Minister for Immigration in Canberra.

It said: "On behalf of the Government and the People, I welcome you to Australia. We sympathise with you in your loss and congratulate you on your safe deliverance. In Australia you will find friends anxious to help you settle happily. I look forward personally to greet you on your arrival in Melbourne. 17th Aprl 1958. More financial backing was forthcoming. The Australian Government gave $A 20,000 in compensation, while philanthropic bodies such as the Australia Red Cross and the St Vincent de Paule Society dontated money and clothes.
Echoes of the Skaubryn Saga were heard thirty-sixyears later when another passenger ship met the same fate as the Skaubryn in the Indian Ocean. The Achille Lauro had carried hundreds of Maltese emigrants to Australia in the twenty-five trips she had done in a period of five years between April 1966 and November 1971. In later years the Achille Lauro and became a popular luxury liner On October 7, 1985, she was on the international news when she was hijacked by four Palistinian guerrillas. Nine years later, on November 30, 1994, the same liner was on a cruise on the IndianOcean when a disastrous fire broke out and was soon out of any control.
On board were a thousand tourists. All were saved except three. She burned for two days when she finally wend down in an area not far from where the Skaubryn had sank in 1958.
MIGRANT SHIPS FRPOM MALTA - http://web.archive.org/web/20091027100417/http://www.geocities.com/f_scicluna/ships.html