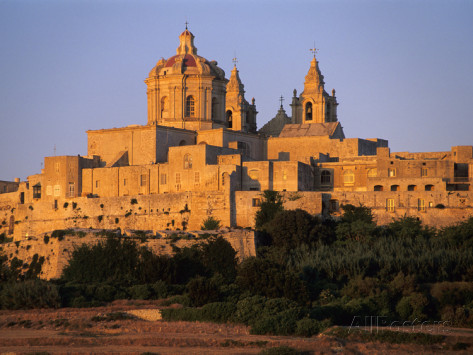 THE ANCIENT CITY OF MDINA –
IL-BELT SABIHA U ANTIKA TAL-IMDINA
The history of Mdina traces back more than 4000 years.
According to tradition it was here that in 60 AD that the Apostle St. Paul is said to have lived after being shipwrecked on the Islands. Furthermore it is said that St. Paul resided inside the grotto know as Fuori le Mura (outside the city walls) now known as St. Pauls Grotto in Rabat. Lamp lit by night and referred to as "the silent city", Mdina is fascinating to visit for its timeless atmosphere as well as its cultural and religious treasures.
Mdina has had different names and titles depending on its rulers and its role but its medieval name describe it best – 'Citta' Notabile': the noble city.
It was home then, as now, to Malta's noble families; some are descendants of the Norman, Sicilian and Spanish overlords who made Mdina their home from the 12th century onwards. Impressive palaces line its narrow, shady streets.
Mdina is one of Europe's finest examples of an ancient walled city and extraordinary in its mix of medieval and Baroque architecture.
THE ANCIENT CITY OF MDINA –
A UNIQUE CITY - AN OPEN MUSEUM
It was here, in AD60, that the Apostle St Paul was rumoured to have lived whilst shipwrecked. A silent city by day, Mdina's narrow, cobbled alleyways housing bastions and palaces are transformed into a glittering, exotic city by night where you can enjoy a romantic dinner by candlelight and hundreds of lanterns twinkling around you. This old medieval capital city of Malta sits high above the Maltese Islands and offers panoramic views of the city.

Mdina, also known as the silent city of Ghosts, you'll feel as if you have been transported into a bygone era by a time capsule…

It's called 'The Silent City' because automobiles are banned during the day out of respect for the ghosts within the city! Mdina really comes alive at night when the glittering lights transform the city into something of a fairytale.
Mdina, the mysterious, elegant, walled city of Malta and its suburb, Rabat, go back in history more than 4000 years when they formed part of a Roman settlement.
MDINA – THE SILENT CITY
Mdina is the old capital city of the island of Malta. It is a typical medieval town, very quiet and excellent for tourists to visit especially in the afternoon and during weekdays when there are less people around! It is situated in the centre of the island and is around 220 metres above sea level so it enjoys breathtaking and spectacular views of all the Maltese Islands.
Narrow streets, churches a cathedral, alleys and convents characterize the city's altogether mystical ambience. Mdina is known as the "Silent City" and even tough it is still fully inhabited silence still reigns all day long especially since car traffic is very restricted.
Mdina was first fortified by the Phoenicians around 700 BC most probably it was chosen because of it's high altitude. The Roman Empire in 60 AD strengthened it and the Roman governor build his palace in Mdina.
The apostle St Paul lived in this same palace. Saracens came in Malta in 870 AD and continued to fortify the city making it the beauty that it is today for any tourist to admire.
Today, no cars (other than those of a limited number of residents, emergency vehicles, wedding cars and hearses) are allowed in Mdina and there is a calming atmosphere as one walks along its narrow streets and ways. The city displays an unusual mix of Norman and Baroque architecture, including several palaces, most of which serve as private homes.
The Cathedral is worth visiting and is fronted by a large square.